Your air conditioning system is a fantastic asset to your property. It can help you keep your space at just the right temperature, enjoy healthier air, increase security and more. But you'll only get these benefits long-term if you look after it – and this means servicing your air con.
How air con servicing can help you
There are several reasons why regular servicing is the best way to look after your air conditioning. It can help you:
Avoid expensive repair bills for unnoticed faults
Keep your energy bills low
Increase your system's lifetime
Preserve your unit warranties
You can find out more about the benefits of air con servicing here.
Air conditioning systems contain refrigerants known as 'F-gases', which help to transfer heat into and out of your air. UK law says that only trained professionals can work with F-gases, so you can't do a service yourself.
If you're looking for a qualified air conditioning engineer, just complete our online form to receive a free air conditioning service quote.
6 signs you should book your air conditioning service now
It's important to get your air con servicing done at the right time. Service your air conditioning too frequently and you'll be wasting your money. But don't service it enough, and you could find your system's underperforming and racking up a bill.
Whether you've got a full service history or have no idea how often your air conditioning's received maintenance work, here are 6 signs you should book in an air conditioning service now.
1. Heating or cooling takes a while
Your air conditioning's primary functions are heating and cooling the air in your property. This means that it should do a good job of doing both.
If you notice that it's taking your air conditioning longer to heat or cool a room or space, it might need a service. Blocked ductwork and clogged up filters can restrict your air conditioning's airflow and stop it working efficiently. During a service, your air conditioning engineer will notice this and clean them for you.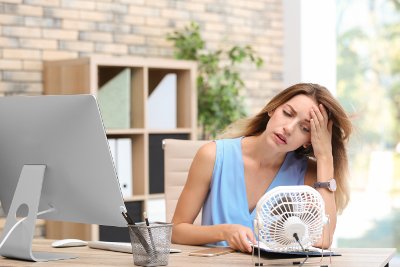 Of course, extreme temperatures can make a big difference to how long it takes your air conditioning to create your desired temperature. So, bear the weather in mind when you're trying to work out whether your air conditioning's underperforming.
2. You're getting bothered by pollen or dust
Are your hay fever or allergies getting triggered much more than usual? A great benefit to air conditioning is that it cleans your air, and helps you ventilate spaces without letting pollen and pollutants in.
If your climate control is failing to lower dust and pollen levels as well as it normally does, its filters might need cleaning out. This means it's time to book in an air conditioning service.
3. Your air conditioning's noisier than usual
A great benefit to modern air conditioners is that most are very quiet – sometimes almost silent. This is a great feature whatever your space, but is particularly useful in bedrooms, offices and spas. So, if your air conditioner's recently got noisier, you probably know about it.
Over time, parts of your air conditioning units will become loose or start to wear out. This could be the issue behind the noise and is a good reason for servicing your air con as soon as possible.
4. Your energy bills are unusually high
Have you noticed a significant rise in your energy bills? The longer you leave your air conditioning to run without getting any maintenance work done, the less efficient it'll become. This means it'll use more and more energy getting your property to your desired temperature, costing you more and more money.
During an air conditioning service, our engineers will check and clean your system, and ensure it's working as efficiently as possible. Just complete our quick online form to get a free, no-obligation quote for your system.
5. It's 1+ years since you last had an air con service
If it's nearly a year, or even longer, since your last air con service, it's vital to get one booked as soon as possible. This is because most manufacturer warranties require you to get your air conditioning serviced at least once a year. If you do this, you'll potentially be able to get free work or a replacement fitted if you experience any problems with your unit, so it's well worth the effort.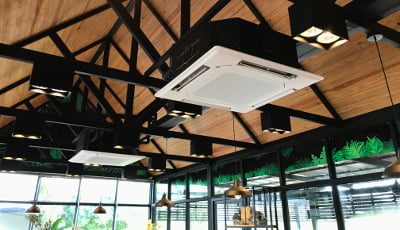 We would also recommend getting domestic and commercial air conditioning systems serviced at least once a year to keep them working safely and efficiently.
6. You've got a commercial system that gets heavy use
If you've got a commercial air conditioning system, annual servicing isn't going to cut it. We'd recommend servicing your commercial system at least twice a year, due to the fact that they usually get much heavier use than domestic systems.
Plus, it's even more important to service your commercial air conditioning system if your premises are a gym, vets, dentist or doctor's surgery. This is because these kind of buildings contain debris in the air and tend to have increased climate control demand. In these cases, it's worth considering getting air con servicing booked in 3 times a year.
All of this means that if you're responsible for maintaining a commercial air conditioning system and you're not sure when it was last serviced, it's most likely an essential job that needs doing as soon as possible.
At D-Air, we offer 2 different servicing options to cater to your air conditioning maintenance needs. Our standard service includes cleaning filters, pumps and condensers, and functionality testing, so is ideal for most routine maintenance.
However, if you have a particularly neglected system or aren't sure of your climate control's service history, try our deep clean service. This includes everything in our standard service, plus a chemical deep clean of all internal units to ensure they're safe and efficient.
Looking to book an air conditioning service? Or not sure what you need? We can help. Complete our online form and we'll get in touch with free air conditioning service quotes and advice.