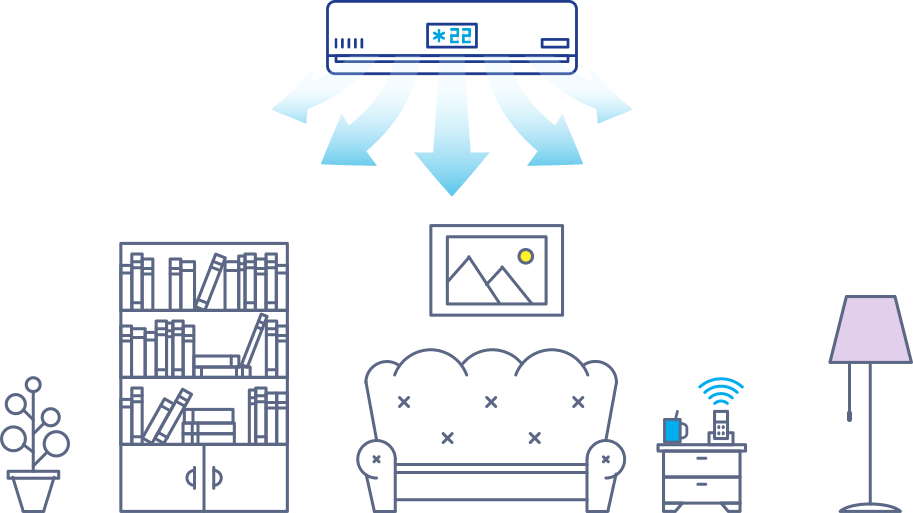 Heating and cooling
Air conditioning isn't just for hot weather. An efficient air conditioning system is the ideal climate control solution – great for heating and cooling your home or business and maintaining a comfortable temperature all year round.
Most air conditioning systems come with separate heating and cooling modes. Simply set your ideal temperature and relax – your system will adjust itself to maintain the temperature you want. Scheduling options are available, as are presence detection features, so you can program your air conditioning to suit your routine. Or simply adjust it manually whenever you need to.

Improved air quality
Air conditioning is great at cleaning your air. Use your air conditioner to reduce humidity and filter out pollen and dust. Not only does this significantly improve air quality, it also creates a safe environment for allergy sufferers. This means that air conditioning is a great way to make a comfortable, healthy space for customers, employees, or your household.
Air conditioning can even help you prevent flies and insects from entering your home. Maintain and service your system regularly to ensure that it continues to circulate and filter air efficiently and effectively, giving you the clean air that you need.

Protect property
Air conditioning can help you look after your electronics and furniture. Stop your electrical technology from overheating and getting damaged with an effective air conditioning installation – whether you've got a home desktop, an office full of computers or an extensive server room, we can find the right climate control solution for you.
Air conditioning can also help you protect your furniture. Wooden furniture kept in rooms with untreated air can develop problems like warp, rot and mould growth. Use climate control to lower your room temperature and remove humidity from the air.

Increased security
Another air conditioning benefit is increased security. Without it, opening windows or doors might be your only way to ventilate rooms and keep them the temperature you want, particularly in the warmer months. But doing this can leave your home or commercial premises vulnerable to intruders, particularly if you forget to lock them up afterwards.
Efficient air conditioning takes away the need to open up your windows and doors. Keep your home or business secure and adjust your room temperature and ventilation at the click of a button.

Reduced noise
Create a calm and peaceful environment in your home or workplace with an effective air conditioning system. New air conditioners are at the forefront of modern technology, and are the quietest they've ever been. Plus, many even have a designated quiet or silent mode.
Efficient air conditioning also removes the need to open windows, reducing traffic and other outside noise pollution. Use air conditioning to create the optimum office working environment, relaxing leisure facility atmosphere or home sleeping space.

Lower health risks
Extreme temperatures can damage your health – from circulation problems to dehydration to heat stroke. Use air conditioning to combat these problems and protect your household, workforce or customers. Keep your rooms or building ventilated to help people stay hydrated and cool in the summer and warm in the winter, creating an ideal working or relaxing environment.
Keeping your air conditioning system maintained and serviced regularly is an important part of using your conditioners to create a healthy, low-risk environment.
Get your free air conditioning quotes now