If you've had climate control for a while, you might have noticed that air conditioning maintenance makes all the difference. A system that's well looked after will be safer, quieter, more efficient and could help you save money on your energy bills.
One maintenance job you must get done is F gas leak testing. It's a legal requirement and can help to keep your climate control as eco-friendly as possible, so don't be tempted to ignore it.
Here's everything you need to know about F gas leak testing regulations and what you need to do to comply with them.
What's F Gas?
The term 'F gas' describes a group of fluorinated gases that are commonly used as refrigerants in air conditioning systems. These refrigerants are a really important part of your air conditioning – they move between gas and liquid state to transfer heat in and out of your air to make it your ideal temperature.
The F gases that are most commonly used in air conditioning units are hydrofluorocarbons (HFCs). These have a range of trade names, but are mostly referred to by their 'R' number. Some commonly used F-gases you might come across include:
You can find out more about air conditioning refrigerants here.
Why are there F gas leak testing regulations?
The use of F gases and the maintenance of the systems they're used in is strictly controlled by UK and EU F gas regulations. This is because, if leaked into the atmosphere, F-gases can dangerously contribute to global warming.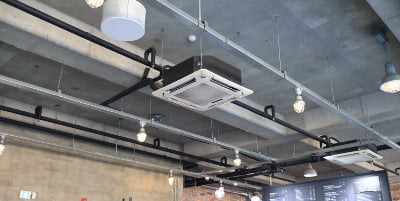 HFC F gases have a GWP (global warming potential) rating. This provides an indication of how damaging they are to the environment. The GWP of commonly used F gases ranges from about 100 – 23,000.
If you have F gases in your home or business, like in an air conditioning system, there are strict rules on F gas leak testing. This is to help restrict how much F gas is released into the atmosphere and reduce environmental damage.
How does the testing work?
There are 2 different ways to check for F gas leaks. It can be done manually or using an automatic detector. If you use an automatic detector, you still have to get manual checks too, but they don't have to be as frequent.
It's compulsory to get an automatic leak detection system if your air conditioning installation contains a mass of F gas equivalent to 500 tonnes or more of carbon dioxide. The rules are phrased like this because different F gases have different weights.
Here are examples for some common F gases:
| | | |
| --- | --- | --- |
| F gas | GWP | Amount requiring automatic leak detection (kg) |
| R32 | 675 | 741 |
| R410A | 2,088 | 239 |
| R404A | 3,922 | 127 |
Who needs to follow leak testing regulations?
All stationary air conditioning equipment needs to be checked for F gas leaks periodically. If you rent your equipment, home or business premises, check your rental agreement to find out who's responsible for getting it done.
How frequently you need to get F gas leak testing done depends on the type of F gas your system uses, and how much of it it contains. Again, this is measured in mass of F gas equivalent to tonnes of carbon dioxide. Generally, the higher the GWP of a gas, the more frequently it needs to be checked.
Here are some examples of how frequently F gas leak testing regulations say you should check systems with different amounts of different gases.
F gas
Max amount (kg)
Minimum check frequency
R32
7.4
Every year
74.1
Every 6 months
741
Every 3 months
R410A
2.4
Every year
24
Every 6 months
240
Every 3 months
R404A
1.3
Every year
13
Every 6 months
127
Every 3 months
The only exception to this is hermetically sealed air conditioning systems. These don't need to be regularly checked unless they contain an amount of F gas that's equivalent to less than 10 tonnes of carbon dioxide.
For help converting F gas weights into tonnes of carbon dioxide, visit the UK government's website.
If you fit an automatic leak detection system, you can double the minimum F gas leak test frequency needed for your system. However, this is only on the basis that your leak detection system triggers an alert if it detects a leak, and is checked at least once a year.
If any leaks are discovered, these need to be repaired as soon as possible, and the system should be tested again within a month.
Do I need a qualified F gas engineer to do my leak testing?
Any F gas leak testing you get done must be performed by a qualified engineer. They'll need to have a category 1 certificate in working on equipment containing F gas from City and Guilds, BESA or LCL Awards.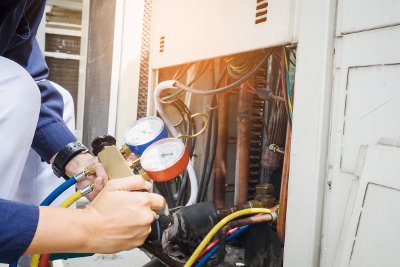 They'll also need to work for a company that is certified to install, repair, maintain and decommission stationary equipment containing F gas. This certification needs to come from REFCOM, F-Gas Register or Bureau Veritas UK and should be renewed every 3 years.
It's vital to make sure that you only get F gas leak testing done by a qualified F gas engineer. Otherwise you could be subjected to a fine and your air conditioning system won't be legal.
Make sure you keep records of all the testing you get done, as well as any repair work, so you have proof if you need it.
Book your F gas leak test now
Think your air conditioning system might be due an F gas leak test? We can help. With a REFCOM F gas certification and 25+ years of experience, we can help you keep your climate control safe and legal. Just complete our quick form to request your free quote today!