If you're thinking about getting air conditioning, don't just pick the first type or unit you find. To get highly efficient climate control that meets your needs, it's vital to find the best air conditioner for your property.
How to get the best air conditioner for you
Working out what you need your air conditioning to do, where you want it and the particular features you'd like will all help you get suitable climate control.
Here are 4 handy tips to help you decide.
1. Choose a suitable system type
There are lots of different types of air conditioner, so narrow it down by identifying which climate control system suits you.
If you have a short-term need for climate control, a standalone, portable unit might be the best air conditioner for you. These definitely aren't the cheapest or most efficient way to cool your property, but can be a good temporary solution. They don't need installing and plug easily into the mains – find out more about portable air conditioners here.
If you're looking for an efficient, economical way to heat and cool your property, you'll want a split, multi-split or central air conditioning system.
These need to be installed in your home or business by an F-gas certified professional. They usually consist of one outdoor unit and one or multiple indoor units. Central or multi-split systems are best for heating and cooling whole properties or multiple spaces, while a split system is ideal for climate control in a single room.
2. Decide where you want your air conditioning
Deciding where you want climate control in your property will help you work out which unit type is the best air conditioner for you. This is because different systems and units suit different spaces.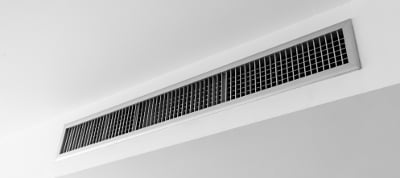 Central air conditioning is really popular due to how discreet it is – its hidden pipes and subtle vents make it barely visible. Because of the significant amount of space it takes up, it's best installed when a property is being built – although it's possible to retrofit in larger buildings. Only go for central air conditioning if you have several rooms or a whole property you want to heat and cool.
If you want a split or multi-split system, you have a wide range of indoor units to choose from. Which one is the best air conditioner for you mainly depends on the room you want to put it in. Here are 3 of the most popular ones:
Find out more about other types of air conditioner and the best place to fit them here.
An experienced professional will be able to give you expert advice on the best air conditioner for you – fill in our form for help with your new climate control.
3. Work out how powerful you need your air conditioning to be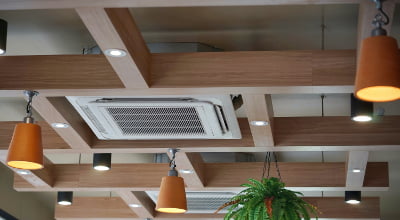 An air conditioning system's output is measured in BTU (British thermal units). The higher its BTU, the more efficient it is at cooling a room.
To get the best air conditioner for a space, make sure it has a suitable BTU. Too high and you'll be paying for more than you need, too low and you won't get the performance you want.
Here's a rough idea of what you'll need:
| | | |
| --- | --- | --- |
| Room type | Size | BTU required |
| Small room | 150ft²/14m² | 6,000 |
| Medium room | 250ft²/23m² | 10,000 |
| Large room | 300ft²/28m² | 12,000 |
You can calculate the rough BTU needed by using this formula:
room ft height x width x depth x 5 = BTU
However, it's important to factor in the amount of sunlight a room gets – a south-facing conservatory will need more powerful air conditioning than a north-facing bedroom. Rooms with electronics also need more cooling power.
4. Think about any particular features you want
There are lots of different air conditioner manufacturers, and their units all have different features. Find out about these so you know what's important to you.
Handy air conditioner features include:
Motion detector
Features vary, but motion detectors can adjust air flow and direction based on the people in a room.
Remote control
Remote controls can come instead of or in addition to wired controls, so you can adjust your air con without getting up.
Smart control
Some air conditioners come with wifi, so you can control your air conditioning using your smartphone.
Timer
Schedule your air conditioning to go on and off exactly when you want it to for additional comfort and efficiency.
Quiet/night mode
Quiet or night modes reduce the noise your air conditioner makes so you can concentrate or get a good night's sleep.
If there's a feature you particularly like the sound of, try to pick an air conditioner that incorporates it.

Following these tips will help you get an idea of which air conditioners will suit your home or business. But to make sure you get the best air conditioners for your property, we'd recommend getting professional help.
Use D-Air to get an air conditioning system that's highly efficient and ideally suits your needs – supplied and installed. Wherever possible we'll try to give you multiple quotes, so you can pick an option that suits your budget.
Just complete our online form to get in touch and get started!