If your air conditioning's working well, it can be really easy to forget about looking after it. And while you deserve to enjoy your climate control, it's vital to do everything needed to keep it safe and legal. One of these things could be getting a TM44 air conditioning inspection done.
Not everyone needs an air conditioning energy assessment, but they're vital to get done if you do. Here's everything you need to know about TM44 air conditioning assessments, who needs to get them and when.
What's a TM44 air conditioning inspection?
A TM44 air conditioning inspection is also known as an EPBD air conditioning inspection or energy assessment. It's when an accredited assessor takes a look at your air conditioning system to see how efficiently it's working and how this could be improved.
During an inspection, the assessing professional will take a look at:
Refrigeration and air moving equipment
Controls
Maintenance history
Other paperwork about your system
Then, they'll provide you with a report including:
How efficient your air conditioning system is
How effective your controls, settings and maintenance are
Details of any faults they've found
Recommendations on how to make your system more efficient
You're not legally obliged to act on the recommendations that your assessor makes. However, you'll probably find that they're worth doing, as they'll help you save energy and reduce running costs.
Make sure you look after the report your assessor gives you – you'll need it as proof that you have the inspection done.
Do I need to get an air conditioning energy assessment?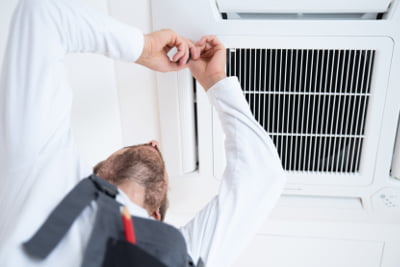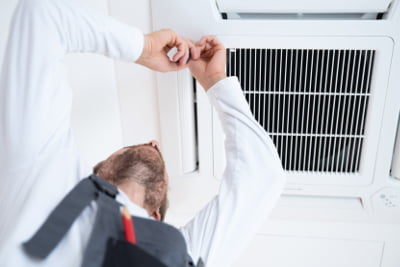 You only need to get a TM44 air conditioning energy assessment if your system has a maximum output of 12kW or more. This includes systems made up of several units that are less than 12kW, but their combined output is 12kW or more.
This rule applies to commercial and domestic air conditioning systems. However, unless you have a particularly large house, you probably won't need an air conditioning inspection for your home climate control. Check your paperwork or individual units to find out what your air conditioning system output is.
The UK government says that getting an air conditioning energy assessment done is the responsibility of the person who controls the building it's in. All the units in one building controlled by the same person count as part of one system.
How often do I need to get an inspection?
If your air conditioning system has an output of 12kW+, you have to get an air conditioning energy assessment done at least once every 5 years. There isn't any leeway for this, so you must get your next inspection done before 5 years is up.
The government brought this rule in in 2011 to help to promote energy efficiency and reduce carbon emissions.
What happens if I don't get an air conditioning energy assessment done?
It's really important to get your air conditioning inspection done when you're required to – there are some serious penalties if you don't.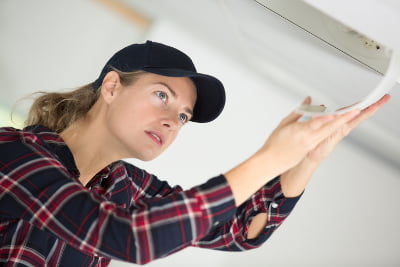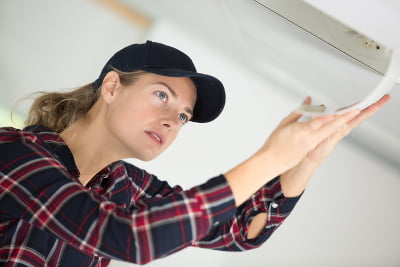 Fail to get your 12kW+ air conditioning system inspected at least once every 5 years and you'll be fined £300. You can also be fined £200 if you fail to provide a requested copy of a report within 7 days. These fines are per building and can be repeated daily, so you could end up with a big bill, especially if you're a multi-site operator.
Air conditioning inspection cost
A TM44 air conditioning inspection costs significantly less than the fines you risk by not getting one, so it's well worth doing. Plus, if an inspection report gives you some helpful info on how to make your system more efficient, you could end up saving money.
Air conditioning inspection costs depend on where your building is and how many units you have. You might be able to get your inspection at the same time as getting other maintenance or repair work, like a service – just get in touch to find out prices.
Complete our quick online form to get a free, no-obligation quote for your TM44 energy assessment. Our expert team can offer a quality service and will help you ensure your air conditioning's operating at peak performance.