Air conditioning can be a great way to improve comfort in a range of spaces – from conservatories to server rooms. But when it comes to cooling large areas like commercial offices, shops and open plan home areas, it's invaluable. Overheated, stuffy areas can be uncomfortable, unhealthy, unsafe, and seriously bad for business or home life.
Why air conditioning for cooling large areas needs planning
The bigger your room or space is, the more difficult it can be to cool. This is because it takes longer to change the air temperature in larger areas over smaller ones. The better suited your air conditioning system is to cooling your large area, the better, faster results you'll see. So, it's well worth taking the time to plan.
Here are 5 tips to help you work out what the best air conditioning is for you and get it installed successfully.
1. Work out what BTU you need
To get the best air conditioning for cooling large areas, you need to get your system output right. This is how powerful your air conditioning system is. Not powerful enough and your system won't be able to deliver the temperatures you need. But too powerful and your electricity bill will be unnecessarily high.
Most air conditioner outputs are measured in BTUs (British Thermal Units). You can use one or combine multiple units to create an air conditioning system with the number of BTUs you need.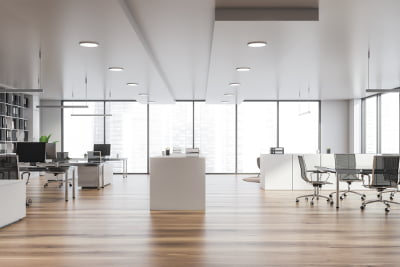 You really need an air conditioning expert to accurately calculate the number of BTUs your system needs to cool your large room or space. But to get rough idea, try using this equation:
Room height (ft) x width (ft) x depth (ft) x 5 = BTU
Room size can be a good indication of how powerful your system needs to be. But it's also vital to consider things like sunlight and other heat sources too. For example, a south-facing office will need more powerful air conditioning than north-facing shop of the same size.
2. Identify the best system
Once you have a rough idea of how powerful your air conditioning needs to be, you can decide which system type is best for you.
For cooling large areas or rooms, you generally have a choice between central or split system air conditioning. However, you'll get plenty of opportunities to customise your system later down the line.
Central air conditioning is a great option for large single-story buildings or properties still in the design stage. This is because the system uses one internal unit and a network of ducting to distribute cool air around a property. There either needs to be plenty of roof and wall space to retrofit ducting, or the system should be incorporated in the property's design.
Split or multi split air conditioning systems don't rely on ducting to distribute air. Instead they use one or multiple internal units placed directly in spaces or rooms that need cool air. This means that they're generally easier and less expensive to install than central air conditioning, although it depends on the space you're trying to cool.
For more help deciding between central and split air conditioning systems, take a look at our handy comparison article.
3. Choose your units wisely
If you decide that a split or multi split system is best for cooling your large room, the next step is to decide on unit types.
There are lots of air conditioning unit types available. Here are the designs that are best for cooling large areas: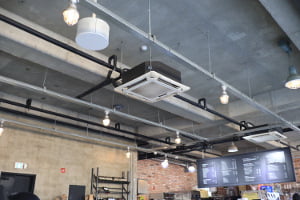 Ceiling cassette units are ideal for cooling large, open-plan rooms like offices or shops. They blow wide streams of air in four different directions and can be quite powerful. This all means that they can provide a significantly large air coverage – you won't need many to cover a big space.
Ceiling cassette air conditioning units recess into ceiling spaces, so are only suitable for rooms with false or suspended ceilings.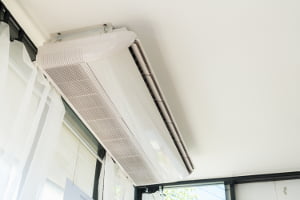 If ceiling cassette units aren't suitable for your space, ceiling suspended units are another great option. They don't have the multi-directional function that ceiling cassettes do, but they can deliver a powerful air flow.
Of course, there are other types of air conditioner around – find out more here. Whatever type of air conditioner you choose to go for, you'll need to make sure that your units are strategically spaced. This will help you cool your large room effectively without overspending.
4. Pick a manufacturer that suits you
There are plenty of quality air conditioning manufacturers around – at D-Air, we install systems made by 10 well-established companies.
The reason we do this is to give our customers the biggest choice possible. Some manufacturers focus on producing top-of-the-range products equipped with a wide range of functions. This contrasts with other companies who specialise in creating simple, quality and affordable products.
So, don't be put off if you find a unit that's too pricy, or another that doesn't have the functions you need. Look at systems from a range of manufacturers to help you find models that suit your property and budget.
5. Find an installer you trust
It's a good plan to do your own research before contacting air conditioning installers. That way, you'll have an idea of what you want and the best way to achieve it.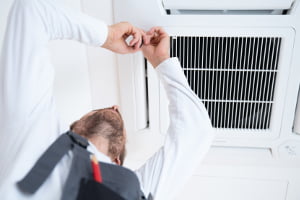 But it's important to take advice from a reliable air conditioning company too. They'll be able to take you through the best options for cooling your large room, and help you achieve the look and functions that you want. Plus, they'll also have the skills and qualifications to fit your system legally and safely.
At D-Air, we've been installing quality air conditioning systems for over 25 years. We have plenty of experience designing and installing air conditioning for cooling large areas like offices, shops and open plan home spaces. All our engineers are REFCOM and SafeContractor accredited, with the skills to leave you with the ideal climate control solution for your property.
Call us on 0800 756 9601 or fill in our quick online form for your free, no-obligation quote today.