Thinking of installing new air conditioning? Or looking for help maintaining your current system? Whoever you go to for help with this, you need to make sure they're a skilled and reliable air conditioning engineer.
Why checking air conditioning companies is worth it
Taking time to check that an air conditioning company or engineer you find is up to scratch can feel like a hassle. But it's definitely worth doing. Installing air conditioning is a serious investment – get quality units and workmanship to avoid wasting your money and you'll enjoy it for years to come.
It's also important to find a reliable air conditioning engineer for any maintenance or repair work you might need. A quality professional or company will help you run your system as efficiently as possible. Not only will this save you money on running costs, it'll also help you maximise comfort, making the most out of your air conditioning.
6 things it's vital to ask an air conditioning engineer
Don't worry about checking air conditioning companies and engineers – it's easy and won't take long. Here are 6 things you should make sure you do.
1. Make sure they've got an F-gas qualification
The first thing you need to do when you find an air conditioning company is check they have an F-gas qualification.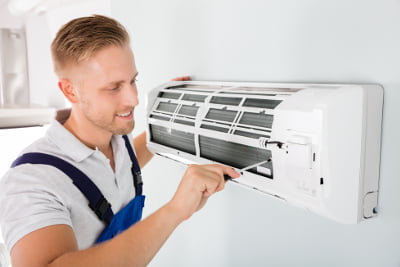 Air conditioning systems work by using a refrigerant gas to transfer heat into or out of the air in your property. There are several different gases that are used, but they're all in a group of fluorinated gases known as 'F-gases'.
The use of F gases is strictly regulated in the UK and Europe. This is because they can be very harmful to the environment. They won't hurt you, but if they get out into the atmosphere they can contribute to global warming.
This means that, in the UK, you're only legally allowed to work on air conditioning units (and other systems containing the refrigerant) if you have a government-approved F-gas qualification. This includes installation, servicing, leak testing, repair and pretty much any other maintenance work.
All air conditioning engineers have to have their own individual stationary refrigeration and air conditioning (SRAC) qualification(s). This needs to be from one of these organisations:
An equivalent qualification another EU state recognises
The company they work for also needs to hold a certification from one of these:
For example, D-Air has an F-gas certification from REFCOM, plus all of our air conditioning engineers have their own SRAC qualification. We take our environmental responsibility seriously and our proud of the consistently high standards of our work.
So, whoever you're considering to help you with your air conditioning installation or maintenance, make sure you find out about their F-gas certifications and qualifications. Check they're from an approved organisation, so you know that your air conditioning will be legal.
2. Ask about health and safety accreditations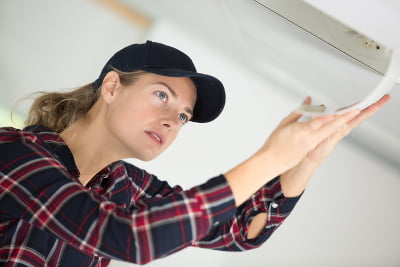 Another thing it's important to ask your air conditioning engineer about is health and safety.
Air conditioning companies have to comply with certain UK health and safety laws. Although not compulsory, there are several health and safety awards and accreditations out there that show that companies are doing this.
Ask the air conditioning companies you come across if they have any health and safety accreditations. D-Air have a SafeContractor certification to show that we regularly pass rigorous assessments that demonstrate our compliance.
3. Find out about manufacturer endorsements
Finding out about manufacturer endorsements can also help you decide if the air conditioning engineer you find is skilled and reliable.
Some air conditioner manufacturers, like Daikin and Mitsubishi Electric, have accreditation or certification schemes. This shows that these brands think that the companies they accredit work to a high standard. Plus, it can also mean that the manufacturers have provided their engineers with specific training, and systems with extended warranties.
All of these can really benefit you as a customer, so air conditioning companies with manufacturer endorsements are worth looking out for. D-Air are currently a Daikin certified installer and accredited by Mitsubishi Electric. If you'd like to receive a free, no-obligation quote from us, just fill in our quick online form.
4. Get details of their experience
An established company with experienced air conditioning engineers tends to be a more reliable bet over a business that's only spent a year or two training.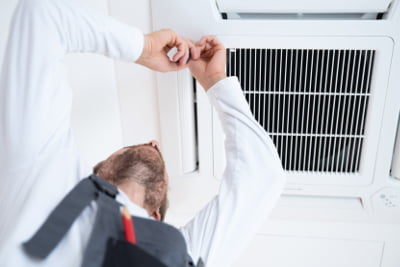 When you're looking for an air conditioning company to help you, try to find one that's been in business for a significant amount of time. Not only will this show that they've got plenty of experience doing popular jobs, it also suggests that their work is in demand.
It's also a good idea to select a company who work with air conditioners from a wide range of manufacturers. This indicates they have the flexibility to work with lots of different products and will be able to supply you with the best installation or maintenance service for you.
5. Ask for advice
If you want to test a professional's knowledge, the best thing to do is ask them for advice. You might not have in-depth air conditioning knowledge yourself, but you don't necessarily need it. If they can give you a clear explanation for what they suggest doing, it makes it more likely that they know what they're doing.
The best air conditioning engineers won't just wait for you to ask what they suggest doing – they'll ask you what you want and share their recommendations.
6. Take a look at their customer reviews
Don't just take an air conditioning company's word for it – find out what their customers think. Reviews can be a great way to get an insight into a business' customer service and quality of work.
Most companies now have online reviews. But if you can't find any, ask them to provide you with references or photos of their previous work.
So, if you're after a skilled air conditioning engineer, there are plenty of things you can do to ensure you hire one. Take the time to do this and you're much more likely to end up with highly efficient air conditioning that keeps you comfortable.
If you're looking for quotes now, try D-Air. With certifications from REFCOM and SafeContractor, we've been providing our customers with high-quality air conditioning solutions for over 25 years.
Take a look at our customer reviews and complete our online form to receive a custom quote. All our estimates are free and no-obligation, so it's completely pressure-free.