If you've decided to install air conditioning in your home or business, you've made a great choice. It's a fantastic way to heat and cool your property, and look after your household or team. But the decision making doesn't stop there. The next thing you need to do is decide which air conditioning units will be best for you.
Tips for choosing the best air conditioning units
It's really important to spend time getting the right air conditioning for your property. Not only will this make your climate control more efficient, it'll also ensure your business or home is as comfortable as possible.
Here are 5 tips to help you get the best air conditioning units.
1. Factor in your room type
Different air conditioning units suit different room types, so it makes sense to think about where you want your climate control.
If you're fitting air conditioning in your home, there are several different unit types that could work for you. Wall mounted units are most common in domestic properties, but you could use ducted, ceiling suspended or floor mounted units too. Ceiling cassette units will only work if you have a suspended ceiling.
If you want to get air conditioning for your business, it can be a bit different. Wall mounted units are still common, for example in hotels and server rooms. However, ceiling cassettes are also very popular. This is because they can fit subtly into suspended ceilings and can cover wide areas with their 4-way blowers.
To find out more about the best air conditioning units for different rooms, take a look at our page on unit types.
2. Think about space
As well as your room type, you need to think about the space you've got to accommodate your air conditioning.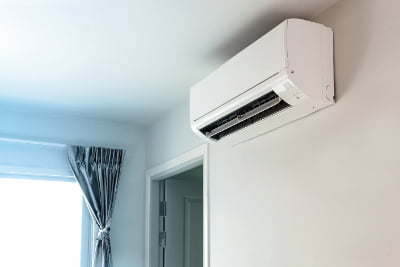 For example, if you've got a property with limited wall space – for example a shop or a conservatory – you might find it difficult to fit in a wall mounted unit. In these types of spaces, floor mounted or ceiling cassette units are the best.
It's also worth thinking about the space you've got above your ceilings and behind your walls. If your property has a false or suspended ceiling, this means that you might be able to fit in ceiling cassette units. These provide great coverage and fit seamlessly into the room.
Ducted air conditioning units are also a great choice if you've got space for them. As part of a split system, they won't need to be connected to other units via ducting, but you will need room behind your walls for the units themselves. These air conditioning systems are popular in both commercial and domestic properties, mainly because they're very quiet and incredibly subtle.
You can also get central air conditioning, which uses one internal unit and a network of ducting and vents to distribute air around your property. This takes up a lot of space, so is best installed as a property is built. However, it is possible to retrofit in some cases. Find out more about central air conditioning and how it compares to multi split system air conditioning here.
Access to an external wall is important for split air conditioning systems, so the internal unit can link to the external unit. So, if you want to fit air conditioning in a room with no external walls, this might make things a bit more complicated.
3. Focus on why you want air conditioning
Make sure you take the time to think about why you want air conditioning. This might sound obvious, but it'll really help you get the best air conditioning units for you and your property.
Most people get air conditioning because they want to be able to cool down their property in hot weather. But air conditioning can do lots of other things too, like heat your rooms, purify your air and reduce noise pollution.
Take the time to define all the reasons why you want air conditioning and work out what's the most important to you. Then you can look for the units that perform best in those areas.
4. Think about which features you want
On top of their main function, like heating and cooling, different air conditioning units have different handy functions. It's a good idea to find out more about these and identify which ones you'd ideally like to have.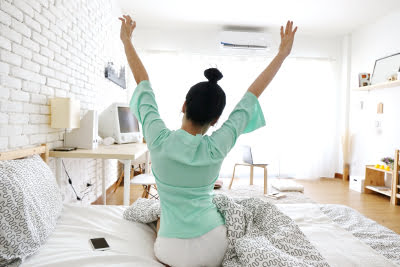 For example, if you're fitting air conditioning in a bedroom, you might want to look for a unit type that's particularly quiet, or has a low noise mode. You can also get units with a night time mode, that adjust the temperature and speed of your air conditioning according to the time of day.
You can also get air conditioners with sensors that monitor movement and where people are in a room. These units can adjust air flow and direction based on how many people are in a room and where they are.
So, if you're installing air conditioning in an office where people come and go frequently, this feature could be great for you.
5. Define your budget
Not only do your units need to heat and cool your home or business in exactly the way you want them to, they also need to be affordable. It's no good spending lots of time identifying the best air conditioning units for your property if they end up being way out of your budget.
Do a bit of research on how much air conditioning units cost and then work out what you can realistically afford. Then you can look at units that fall within your price range. Make sure you factor in installation and maintenance costs too.
If you need help finding the best air conditioning units, try D-Air. We'll conduct a survey and consultation to make sure we fully understand your property and air conditioning needs. Then we'll create a bespoke system design and recommend the best air conditioning units for you. We'll even give you multiple quotes so you can choose an option that suits your budget.
Just fill in our online form to get more information about your new air conditioning and request quotes.