Samsung air conditioning
Get subtle climate control with Samsung air conditioning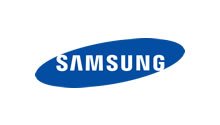 Through their wide range of products, Samsung air conditioning offers climate solutions for both homes and businesses. These include wall mounted, ceiling cassette, floor mounted and ceiling suspended units to suit small and larger spaces.
The global brand aims to use creativity and innovation to provide products that seamlessly blend into their environment, while making it calm, comfortable and relaxing.
Popular Samsung air conditioning products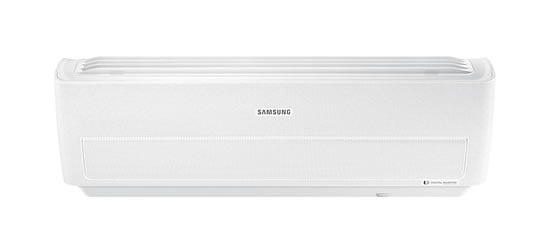 Samsung AR-NSPXB
The Samsung AR-NSPXB is a wall mounted air conditioning unit. One of its key features is that it distributes air through a series of holes, which means it can effectively alter room temperature without creating draughts. It also provides highly efficient and quiet heating and cooling, and can be controlled easily via a smart app.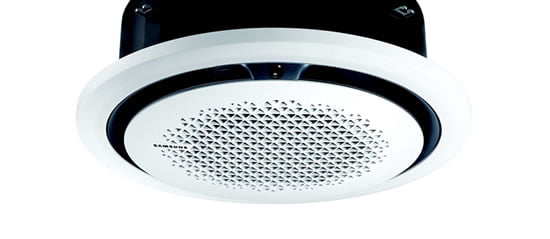 Samsung 360 cassette
Samsung's 360 cassette is a ceiling cassette air conditioning unit. Its unique circular design means that it can supply a uniform air supply in all directions, allowing it to heat up or cool down a room efficiently and consistently. Its range of attractive styles allows it to suit several different commercial and domestic spaces.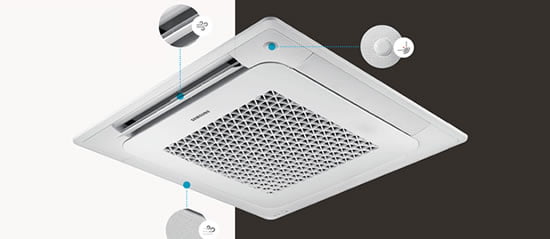 Samsung Wind-Free cassette
The Samsung Wind-Free cassette is a powerful ceiling cassette air conditioning unit. Its wider blades mean that it can distribute air quickly and efficiently. It also features a motion detect sensor, which enables customised airflow levels and directions according to who is in a room.
Get your free air conditioning quotes now